According to Hypergrid Business latest statistics published recently the Kitely Market has now passed the 500 grid milestone which is very good news indeed. Kitely has now delivered content to a total of 506 OpenSim grids in terms of closed and hypergrid enabled ones.
In recent years exportables and listings have been increasing on the Kitely Market offering a useful way for OpenSim users to buy legal and legitimate content. The latest stats show that there are "currently 18,469 product listings in Kitely Market containing 36,871 product variations, of which 31,736 are exportable".
Here is a graph showing exportable (green) and non-exportable (red) growth on the Kitely Market since July 2014.
Kitely now has 19, 101 regions, there is roughly 1, 130 active users that have logged in during the past month and in total there are 123, 936 total residents on the Kitely grid.
(HG grid.kitely.com:8002)
OpenSim land area increased this month however active users fell for a second month running. There was a net loss of 452 active users in the last 30 days.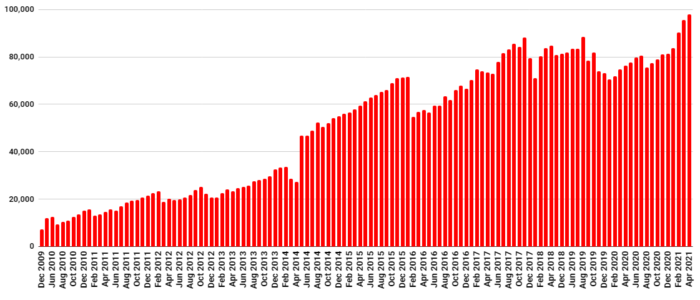 The Kitely grid recently announced that they now support the Environmental Enhancement Project (EEP) where you can change the world's environment in terms of the sky and water. Kitely now runs on the latest stable release of OpenSim 0.9.1.1.