Second Life birthday time capsules so far
4 days to GO!
The first original Second Life birthday time capsule was created at the end of Second Life beta phrase on 23rd June 2003. You can still find the original time capsule today under the Governor Linden's mansion with other cool historical objects. If you right hand click the capsule then click on edit you can see a number of items inside.
Check out the historical SL wikia page featuring the first Time Capsule and Live Broadcast from CEO Philip Linden during SL1B.
Don't Open Till June 2004
From: Second Opinion, Volume 1, Number 8

Out of sight, out of mind? Not for the residents who contributed more than 225 objects, outfits and snapshots to the Second Life Beta Time Capsule. Created as a way to memorialize the Beta period, the SL Time Capsule was buried deep underground, where it will hibernate for a year before being unearthed in June of 2004. The submersion ceremony took place at the Governor's Mansion on June 22nd, where many residents gathered to take one last look at the steel capsule as Hunter Linden sealed it tight. What's in the time capsule? Well, there's no truth to the rumor that Peter Linden entombed two misbehaving residents, but the true contents must remain a secret. However, as a sneak peek, we can reveal the goodies include a resident snapshot from the first hour of Beta, some of the best handcrafted furniture Second Life has to offer, an ominous note card warning folks not to open it, and one object simply labeled "meat," which is likely to be quite stinky a year from now. Join us in June 2004 for the unearthing of the Time Capsule and a chronicling of its contents.
SL2B saw a giant museum displaying various large builds, snapshots of SL over time, and objects from the time capsule opened from SL1B.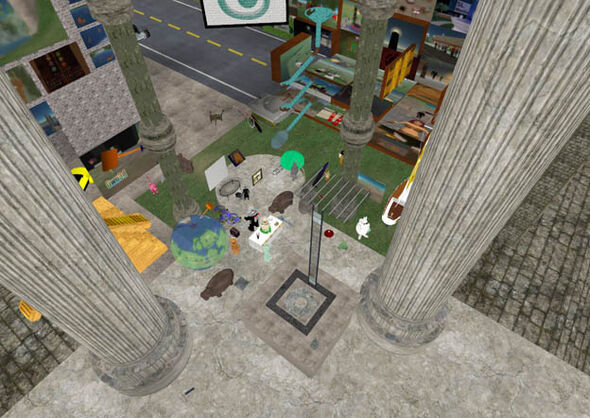 SL3B started to be a tradition with having a time capsule every year for Second Life birthdays. The SL3B time vault was created which was a huge vault including items from 2006. The SL3B Time Capsule was created by Lethe Naumova.
SL4B time capsule was a world container for the Second Life world and community. The SL4B Time Capsule was created by Alenzia Epsilon.
SL5B time capsule was made to glow to mark energy and excitement in the Second Life community.  The SL5B Time Capsule was created by Sambivalent Spork.
SL6B time capsule was designed for the asteroid theme. The capsule had a vault door that would open when clicked. The capsule was a rotating asteroid. The SL6B Time Capsule was created by Ludo Merit.
SL7B time capsule was a lovely colourful timegate. The SL7B Time Capsule was created by Ucello Poultry.
SL8B time capsule in 2011 featured a rabbit coming out the magicians hat.
SL9B is being worked on I believe and will be ready for the grand opening on Monday 18th June 2012 from 11am SLT. You can find the SL9B time capsule next to the SL9B Welcome Hub far north of the SL9B sims.
Posted on June 14, 2012, in Linden Lab, Second Life, SL Birthday, SL Community, SL Cool Stuff, SL Events, SL Snapshots, SL Summary, SL9B and tagged Second Life, SL Birthday, SL Events. Bookmark the permalink. 5 Comments.